JNetCAD ...
... the Java-Application for viewing and converting CAD data.
JNetCAD is a simple Java GUI for importing and exporting several CAD formats. Each im- and export module exists as JAR library and can be used separately in other projects. JNetCAD uses jRealiy for the visualization. Hence it provides a software renderer and a JOGL (Java binding for OpenGL) renderer. For the import libraries, exemplary Java3D and jReality renderer are included. At least Java version 1.5 is required.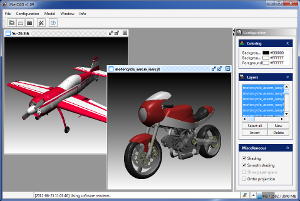 Im- and exporter concept
As mentioned above, the im- and export modules have been implemented as independend Java libraries, which can be used as loaders (for viewer, analyzer, ...) and conversion tools. Following diagram shows the relations: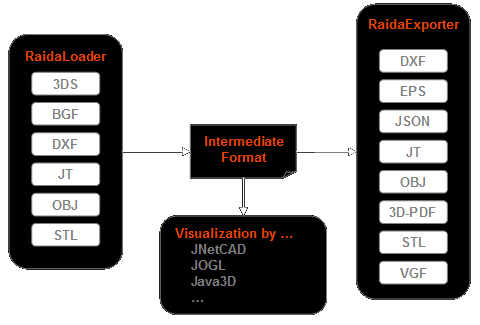 Conversion example: JT -> JSON / CTM (WebGL)
Here is an embedded example of the conversion from JT to JSON (WebGL). The original JT model has been found here: Radial_Engine.jt.
A conversion to JSON (ASCII) results in 4,41 MB, a conversion to CTM (compressed binary) results in 0,33 MB. Both data formats contain exactly the same geometry!
For this example, a WebGL compliant browser is necessary:




Screenshot (Firefox)
Rotation:    Left mouse button
Translation: Right mouse button
Scale:       Wheel mouse button
Click here for full screen with picking feature.
										
Conversion example: JT -> 3D-PDF
Here is another conversion example of the above mentioned JT model Radial_Engine.jt. The resulting PDF file can be viewed by every Adobe Acrobat Reader (at least version 7).

This conversion allows you to send your 3D model to any other people, knowing, that they can view it.

The design and content of the PDF file is only an example and can be designed individually.
Licence
All components can be used in non commercial or educational projects for free. For commercial use, please contact the author. It's possible to obtain either a licence or the source code.
Donation
If you use this software for free or you find it usefull, please support further development of this software by a PayPal donation or a Flattr.


Downloads